You're My Foreignoy is a beauty pageant and talent contest for pure foreign men who are Filipino at heart. Contestants must show their Filipino culture-inspired talent, say hard-to-pronounce Filipino words and proverbs correctly, and delight the viewers with their charm and wit. It is the counterpart of the female version You're My Foreignay. One notable contestant is 2014 grand finalist Richard Hwan who shortly went on to become a housemate in ABS-CBN's reality show Pinoy Big Brother: 737.
In 2015, the second edition was renamed as You're My Foreignoy: Artistahin Talaga! as it added an acting challenge for the contestants.
The title of the segment is a portmanteau of the words "foreign" and "Pinoy."
You're My Foreignoy (2014)
The grand finals of the first edition was held on 22 February 2014 with eight finalists. One was from Asia, one was from South America, one was from the Middle East, and the rest of the contestants was from Europe.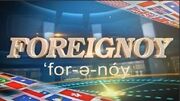 Twenty-seven-year-old Guilherme "Gui" Adorno of Portugal was declared as the first-ever winner of the competition, receiving ₱200,000 as his prize. Gui won because of his consistent performance and his sophisticated image that was boosted by giving a cover version of the Eraserheads' "Ang Huling El Bimbo" with matching guitar rendition.
The first runner-up was James Sumner of England who won P75,000, while the second runner up was Diego Furoni of Italy who won P50,000. Richard Hwan was given a special Dabarkads Choice Award for receiving the most likes on Facebook, while James Sumner also received the Best in Talent Award for his vocal rendition of "Lord, Patawad."
Grand Finals

| Contestant | Country | Result |
| --- | --- | --- |
| Gui Adorno | Portugal | Winner |
| James Sumner | England | First runner-up and Best in Talent |
| Diego Furoni | Italy | Second runner-up |
| Richard Hwan | Hong Kong | Dabarkads Choice Award |
| Eduardo Fagundes | Brazil | Grand finalist |
| Petar Sajko | Croatia | Grand finalist |
| Christian Arno Williams | England | Grand finalist |
| Reza Kianifar | Iran | Grand finalist |
You're My Foreignoy: Artistahin Talaga! (2015)
Unlike the original competition, the second edition included an acting contest in which the contestants must act out a scene with the other Eat Bulaga! hosts using a Tagalog line provided to them.
The grand finals of the second edition was held on 2 May 2015 with seven finalists. Two of the finalists were from the United States and another two were from Australia. The other three came from Africa, Asia, and South America.
Twenty-three-year-old Bobby Madubike of Nigeria was hailed as the grand winner of the second edition of the competition, winning over the six other contestants. He also won the Best in Talent Award. Dae Hyuk Lee of South Korea was declared as the first runner-up while Dwaine Woolley of Australia was declared as the second runner-up. Jeff James of the United States was given the special Dabarkads Choice Award.
Grand Finals

| Contestant | Country | Result |
| --- | --- | --- |
| Bobby Madubike | Nigeria | Winner and Best in Talent |
| Dae Hyuk Lee | South Korea | First runner-up |
| Dwaine Woolley | Australia | Second runner-up |
| Jeff James | United States of America | Dabarkads Choice Award |
| Aaron Detommaso | Australia | Grand finalist |
| Eric Buzbee | United States of America | Grand finalist |
| Renato Menezes | Brazil | Grand finalist |