That's My Bae: "Twerk It" Dance Contest (originally That's My Bae) is a dance contest for male contestants who are referred to as baes, a slang word for "baby/babe" as a term of endearment. The contest features handsome men who became viral Internet stars after posting their own version of the viral Dubsmash trend of dancing to the 2014 hit single "Twerk It Like Miley" by Brandon Beal. The viral trend was started by Kenneth Earl Medrano who subsequently joined and won the dance contest that was inspired by his Dubsmash video.
In the contest, the contestants dance to the same song and try to the swoon the audience with their looks and their introductory pick-up lines. They must also do poses for the camera as modeled by the hosts of the segments.
The regular hosts of the segment are Alden Richards and Sam YG. His hosting stint on That's My Bae: "Twerk It" Dance Contest earned him the nickname as the "Ultimate Bae" and the "Pambansang Bae ng Pilipinas."
The original title of the segment was simply That's My Bae. Overtime, a subtitle was included as an added description of the competition. The title of the segment is based on the name of the classic Eat Bulaga! segment That's My Boy.
The grand finalists of the dance contest were formed into a dance group known as That's My Bae. It was originally composed of Kenneth Medrano, Gab Bayan, Kim Last, Joel Palencia, Tommy Peñaflor, Jon Timmons, and Miggy Tolentino. The group became regular cast members of the noontime show.
Overview
The series began on 6 July 2015. The daily winners underwent a series of elimination rounds until only seven contestants remained in the grand finals of the competition.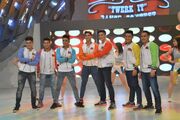 The grand finals of the dance competition was held on 29 August 2015 with the seven grand finalists: Gab Bayan, Kim Last, Kenneth Earl Medrano, Joel Palencia, Tommy Peñaflor, Jon Timmons, and Miggy Tolentino. Like in the previous rounds, the contestants showcased their looks and showed off their dance moves in the ultimate showdown of the baes. The judges include Eat Bulaga! hosts Michael V. and Ryan Agoncillo, volleyball players Dindin Manabat and Rachel Anne Daquis, and Miss World 2013 Megan Young.
Twenty-four-year-old Kenneth Earl Medrano of Cebu City was declared as the winner of the competition, receiving ₱250,000 as the grand prize. Kenneth also won the Dabarkads Choice Award after receiving the most likes in an online voting on the show's Facebook page.
Soon, Kenneth and the six other grand finalists were performing regularly on the noontime show. They eventually became an official in-house dance group known as That's My Bae, adopting the title of the segment where they were discovered from as the name of their group.
Grand Finals

| Contestant | Origin |
| --- | --- |
| Gab Bayan | Pasig City, Metro Manila |
| Kim Last | Kings Cross, London |
| Kenneth Earl Medrano | Cebu City, Cebu |
| Joel Palencia | Antipolo, Rizal |
| Tommy Peñaflor | Dinalupihan, Bataan |
| Jon Timmons | Los Angeles, California |
| Miggy Tolentino | Caloocan City, Metro Manila |