Spogify feat. Singing Baes is a singing contest for male contestants who are referred to as baes, a slang word for "baby/babe" as a term of endearment. 
The title of the segment is a portmanteau of the music streaming service, Spotify, and the Filipino word for handsome, "pogi." The segment is the counterpart of the segment That's My Bae: "Twerk It" Dance Contest, which began the search for talented baes on Eat Bulaga!.
This segment is emceed by the DJ duo of Nicole Hyala and Chris Tsuper of 90.7 Love Radio.



Overview
Spogify feat. Singing Baes acts as a spin-off of the former segment That's My Bae: "Twerk It" Dance Contest. The daily rounds of the competition began on 12 October 2015.
The daily winners then underwent a series of elimination rounds until only five contestants remained in the grand finals of the competition.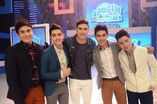 The grand finals of the singing competition was held on 9 January 2015 with the five grand finalists: Mavi Lozano, Kyle Manalo, Yasser Marta, Anthony Rosaldo, and Justin Smaby. The judges include Valeen Montenegro, Dennis Trillo, and Christian Bautista.
Twenty-one-year-old Martin Maverick "Mavi" Lozano was declared as the grand winner of the singing competition. He performed the 2013 song "Out of My League" by the American band Fitz and The Tantrums.
 

| Contestant | Songs |
| --- | --- |
| Mavi Lozano | "Out of My League" |
| Kyle Manalo | "Passenger Seat" |
| Yasser Marta | "Basta't Kasama Kita" |
| Anthony Rosaldo | "How Did You Know" |
| Justin Smaby | "Always Be My Baby" |