Mr. Macho is one of the first dance contests created by Eat Bulaga! during the 1980s. Male contestants must perform to the 1978 song "Macho Man" by the American disco group Village People. It is a sponsored segment intended to promote the 1980 American musical comedy film Can't Stop the Music as well as to hype up the Village People's concert then in Manila.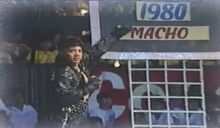 The introduction of the Mr. Macho segment saved Eat Bulaga! from getting cancelled after suffering a year of low ratings against Student Canteen. After becoming a popular segment, Eat Bulaga! won the ratings game for the first time, gaining 31% against Student Canteen's 29% during the month of the segment's debut.
The segment is colloquially known as Macho Man.