Inday Henyo is a cooking competition for barangay residents who have their own unique versions to traditional Filipino dishes. It is a subsegment of Kalyeserye, which is a part of Juan for All, All for Juan: Bayanihan of d' Pipol.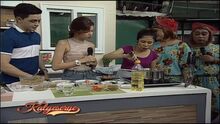 Each contestant prepares one dish over the course of the episode, taking the audience through the inspiration, preparation, and stages of cooking. The segment is set up like a traditional cooking show, except there are two contestants in each episode. 
Inday Henyo is integrated into the storyline of Kalyeserye as a contest to look for a new housemaid suitable for the newly married AlDub.
Ad blocker interference detected!
Wikia is a free-to-use site that makes money from advertising. We have a modified experience for viewers using ad blockers

Wikia is not accessible if you've made further modifications. Remove the custom ad blocker rule(s) and the page will load as expected.