2 in a Room "Wiggle It" Dance Contest a dance contest on Eat Bulaga! in 1991. It is one of the many dance contests created by Eat Bulaga! during the 1990s.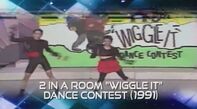 The contestants of the competition must dance to the 1990 hip house song "Wiggle It" by the American hip house duo 2 in a Room.
Ad blocker interference detected!
Wikia is a free-to-use site that makes money from advertising. We have a modified experience for viewers using ad blockers

Wikia is not accessible if you've made further modifications. Remove the custom ad blocker rule(s) and the page will load as expected.